30 May

Pagan Amum: SPLM reunification no longer a priority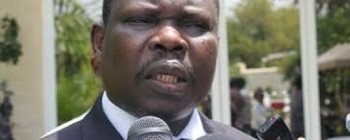 Pagan Amum Okiech, leader of the SPLM Former Detainees (SPLM-FDs), said reunification of the SPLM party is no longer a priority in South Sudan.
On Friday, Pagan declined to sign a new deal for the SPLM reunification negotiated in Kampala in a meeting facilitated by Uganda's President Museveni. The document called on the SPLM faction led by President Kiir, SPLM-IO loyal to Taban Deng and the SPLM-FDs led by Pagan Amum to work out a roadmap to reunify the party.
Speaking to Radio Tamazuj on Sunday, Pagan Amum, who attended the Kampala meeting alongside two members of his group, said he refused to sign the document because it was not inclusive.
According to Amum, the reunification of the SPLM party is no longer the focus, saying the main priority now is how to stop the ongoing civil war in the country.
He pointed out that the Kenyan government plans to come up with a new inclusive initiative in order to bring about peace in South Sudan.
Amum, who is former secretary general of the SPLM party, revealed that they had a meeting with President Uhuru Kenyatta in Nairobi where they discussed ways of bringing about peace in South Sudan.
He noted that the Kenyan president decided to invite all warring parties in South Sudan to discuss how to bring about peace, adding that they are also in contact with leaders of Sudan and Ethiopia to also find amicable solutions to the ongoing war in South Sudan.
South Sudan broke apart and plunged into a violent confrontation in December 2013 following bitter disagreements within the top leadership of the ruling Sudan People's Liberation Movement (SPLM), splintering the party into several groupings.
The violence has claimed thousands of lives and displaced millions others, both internally and into neighboring countries.