07 Aug

IGAD says working to restore permanent ceasefire in South Sudan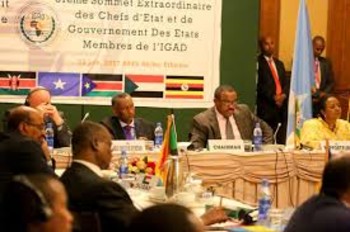 The East African regional bloc (IGAD) said in a press release Friday that its newly appointed Special Envoy to South Sudan, Ismail Wais earlier this week held meetings in the capital, Juba to discuss issues pertaining to revitalization of the 2015 peace deal.
According to IGAD, the High Level Revitalization Forum (HLRF) aims to bring together parties to the peace agreement and other stakeholders including estranged groups to discuss concrete measures of restoring the permanent ceasefire.
"During the two-day mission, the special envoy met with key officials from the Transitional Government of National Unity, the UN Mission in South Sudan and the Joint Monitoring and Evaluation Commission," partly reads the press release.
The East Africa's security and trading bloc further said the HLRF is also expected to develop a revised and realistic timeline and implementation schedule towards a democratic election at the end of the transition period.
It pointed out that the convening of the HLRF was authorized by the Extra-Ordinary Summit of IGAD Heads of State and Government held in Ethiopia on 12 June 2017.
"The Summit mandated the IGAD Council of Ministers to urgently facilitate the convening of the Forum," adds the press release.
Subsequently, the IGAD Council held two extraordinary sessions on 2nd and 24th July 2017 in Addis Ababa and Juba respectively, which led to the eventual convening of the Forum next month.
Inter-Government Authority on Development (IGAD), is an 8-member economic bloc that brings together Ethiopia, Djibouti, Somalia, Sudan, Eritrea, South Sudan, Kenya and Uganda.