22 Aug

Humanitarian affairs minister says concerned over situation of aid workers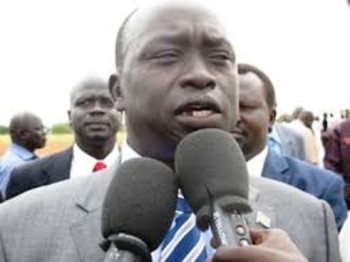 File photo: Hussein Mar Nyuot
South Sudan's Minister of Humanitarian Affairs, Hussein Mar Nyuot, said he regrets the reported challenges facing aid workers while carrying out their work across the country.
Hussein told Radio Tamazuj on Sunday that despite government's efforts to protect aid workers and agencies operating within the country, the ongoing war has created avenues for atrocities against humanitarian workers.
He reiterated that the challenges facing the aid workers are not part of the government's policy. He expressed his optimism that the deployment of the regional protection force will improve the humanitarian work in the country.
David Shearer, the Head of the United Nations Mission in South Sudan (UNMISS) while addressing the commemoration of the International Humanitarian Day in Juba on Friday said South Sudan is one of the most difficult places to work in as an aid worker.
"I have worked in many parts in the world but I did not get a logistical difficulty as South Sudan," Shearer said.